When it comes to preparing kids' lunch boxes day in, day out, it's SUPER easy to become stuck in a Vegemite sandwich rut.
Let's band together to keep lunch boxes both fun and yum, our kids excited for recess and lunch and ZERO waste. A lunch box that comes home with all things eaten? Now we're talking lunch box goals right there! 
Woolworths offer fantastic value for money when it comes to packing lunch boxes. The whole family can pick from a huge range of multi-pack foods – from popcorn to cheese and cracker kits – all perfect for popping in a lunch box.
With that goal in mind, grab your lunch boxes and let's get packing!
A great tip in securing a 100% empty lunch box rate is to let the kids choose what they want to eat. Show the kids this mammoth list of lunch box friendly foods and let them add to the grocery list.
Plus, the Woolworths food range of products mean even bigger and better value for money. Trust me, I've tried so many of the Woolworths food range products and they taste just as amazing as our top name brand products AND save you a packet in the process!
---
LUNCHBOX PACKING TIPS:
Always pack a cold or frozen drink or ice pack in with a lunch box to retain freshness and keep meats and dairy cold.
We all eat with our eyes first – mix it up and cut sandwiches or fruit in funny shapes using cookie cutters. Keep lunch box contents appealing with colour – easy to do with fresh fruit or vegetables!
Thermos containers are great for hot AND cold foods. Pour boiling water in first to heat up the container on cold winter mornings, then empty and fill with hot foods.
An air fryer is awesome for quickly baking or heating lunches (nuggets, fish bites, sausage rolls) before packing in a Thermos.
You can separate foods using silicone baking cups or paper patty pans – an easy DIY bento option.
Small handed kids wrangling wraps can be tricky. Use a rubber band to hold wraps closed, wriggling the bands down as they eat.
Finally, add a short note or bad Dad joke to bring a smile to your little one's dial during the day.
---
NUTRITION 101 – HOW MUCH DO WE NEED?
Balance is key, a healthy meal is made up of one-third grain and cereal foods, one-third vegetables and a one-third split between dairy, protein and fruit. Woolworths ambassador and lunch-packing dad, Jamie Oliver, assures us not to lose sleep if we don't hit all the food groups with every packed lunch – just make sure there's an overall balance across the week.
How much food you should pack in a lunch box depends on your child's age, gender and level of physical activity. Kids who participate in sports training throughout the week will need more body fuel than their bookworm friends! To find out portion sizes for your own tribe, head to Eat For Health.
---
1. PROTEIN

Kids, depending on their age, require one and a half to two and a half servings of lean meat, chicken, fish, eggs, nuts and seeds a day. Often overlooked, kids aged over six should be eating two to three servings (approximately 150g) of fish a week. 
A super easy way to do that is with tinned tuna – try it in a wrap or flaked into salad or pasta OR Buy a Woolies rotisserie chicken, shred and freeze the meat!
Rolled deli meats (ham, turkey, beef)

Fritz/ devon and tomato sauce

Hard boiled eggs

Marinated chicken drumettes and wingettes

Mini vegetable frittatas

Flaked tuna pots

Kabana/ cabanossi

Salami slices
Twiggy sticks

Crumbed chicken tenders

Meatloaf (can be sliced and frozen)

Mini meatballs

Omelette, sliced into ribbons

Vegetable fritters

Shredded chicken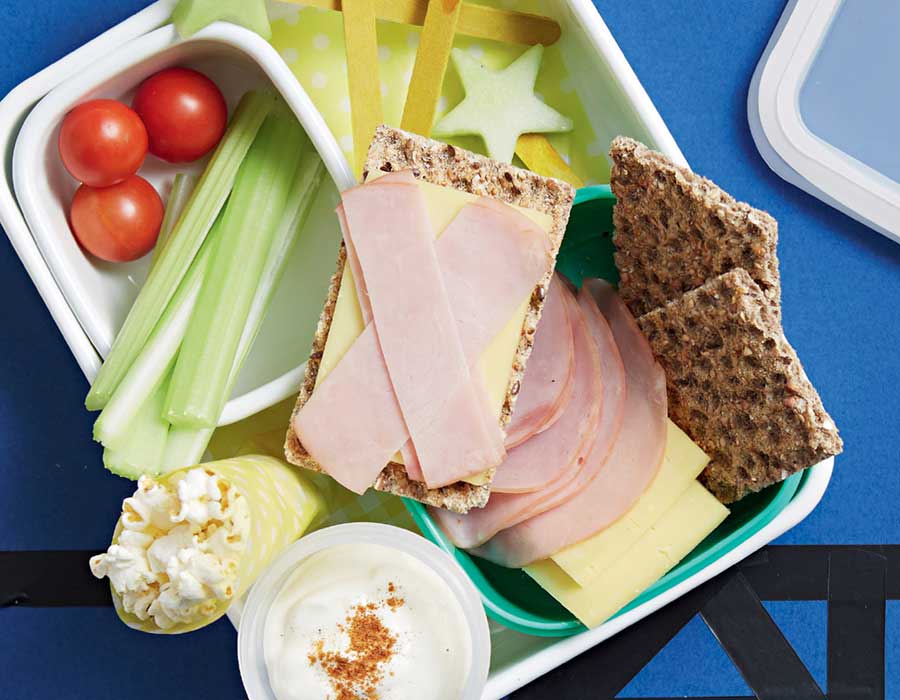 ---
2. DAIRY & CHEESE

Another valuable source of protein, kids usually don't have any trouble gobbling down cheese! Two and a half to three and a half serves a day is a healthy target for kids, depending on their age. Yoghurt, smoothies and plain milk are also delicious (well received) ways to get dairy into growing bodies.
Try packing some of these into their lunch boxes to get them a good dose of dairy and calcium into their daily diet.
Woolworths tasty cheese sticks

Cheese slices

Grated cheese
Babybel mini cheese

Yoghurt (watch the sugar content though)

Hummus dip
---
3. VEGETABLES

We need to get two and a half to five and a half servings into our kids, depending on their age, every day. That sounds like a lot, but it's easily done. One serve counts as a handful of lettuce leaves, a cup of raw vegetables ie. carrot sticks or a tomato sliced into a sandwich.
Sometimes it's about the way we serve and prepare veggies that makes them all the more attractive to kids. Smaller ready made snacks like mini cucumbers and tomatoes make eating salad so much easier!
Mini cucumbers (whole)

Grape / snacking tomatoes

Capsicum strips (yellow, green and red)
Snow peas

Broccoli florets

Edamame, shelled

Mini corn cob

DID YOU KNOW: Woolies has a Fresh or Free guarantee whereby if you purchase fruit and veg and it's not fresh when you get it home, they'll replace it free of charge AND refund your purchase price! #winning

4. FRUIT

Perhaps the easiest of them all, depending on their age, kids need just one to two servings of fruit every day. One serving of fruit is a medium banana, one apple or a cup of diced tinned fruit.  A serving of fruit is the perfect mid-morning 'brain food' snack to keep going until recess.  Strawberries are a fave in our house, what about yours?
With that in mind, why not add some of the following to their lunch boxes:
Blueberries

Apple whole, slices or slinky

Grapes

Strawberries

Raspberries

Mandarin segments

Orange segments

Peaches

Passionfruit
Watermelon

Rockmelon

Kiwi fruit

Pineapple pieces

Banana

Mango cheek, scored

Plums

Nectarines
---
5. GRAIN FOODS

Often the star of the lunch box, kids need between four and six serves of grain foods a day, depending on their age.   It's really important to choose wholegrain products as much as we can – it delivers more essential vitamins and fibre than white options. One serve of grain food is a single slice of bread, half a cup of cooked rice or one small English muffin.
So that leaves us with fitting grains into lunch boxes, and while we often reach for bread, how about adding some of these in next time?
Pretzels

Wholegrain crackers

Corn Thins

Rice cakes

Rice crackers

Bagels

Bread roll

Pita pockets

Vegemite and cheese scrolls

Mini croissant
Mini dinner roll sandwiches

English muffin

Pikelets

Sushi rice

Mini toasts

Mini Hawaiian pizzas

Savoury vegetable muffins

Dry low sugar breakfast cereal to nibble

Pikelets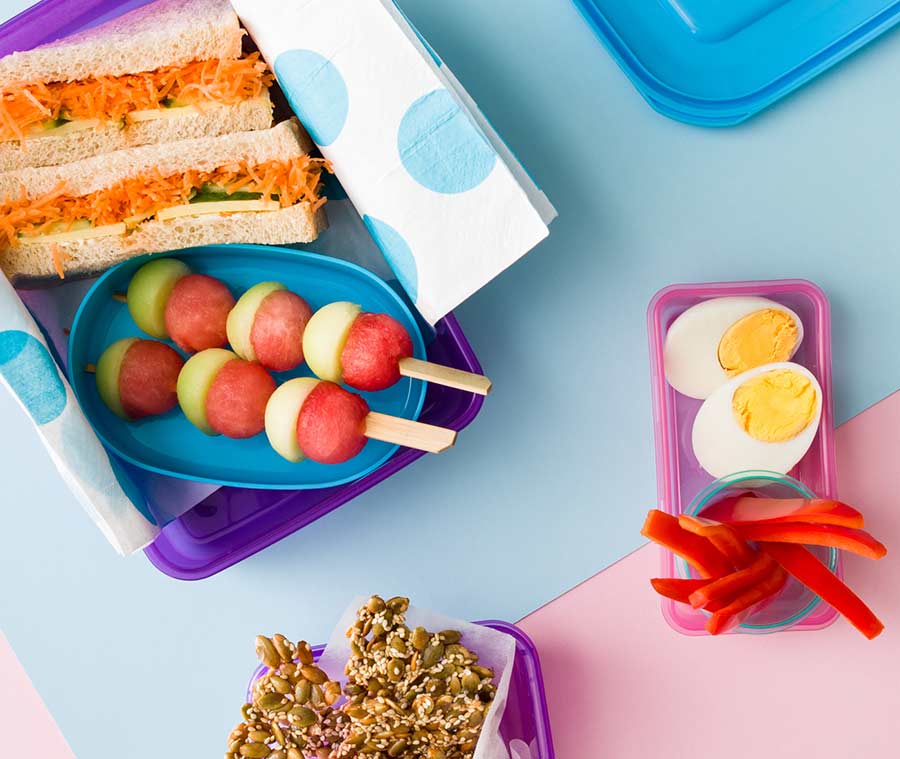 ---
6. SWEET TREATS

Exactly that, a treat, otherwise known as a sometimes food. Don't let the kids nag you into these foods becoming every day foods!
I do make it very clear to my boys that I expect sandwiches and fruit to be eaten before any sweet treats otherwise they'll stop seeing them in their lunchboxes. Works a treat so far, fingers crossed!
Dried mango

Banana chips

Dried apricots

Dried apples

Dried cranberries

Rice crackers

Sultanas

Raisins
Homemade natural juice gummy "lollies"

Banana bread

Marshmallow rice bubble bars

Mini cupcake

Frozen smoothie pouches

Freeze dried fruits

Fruit leathers
---
---
7. DELICIOUS COMBO IDEAS 
Salad and meat kebabs (lettuce, cherry toms, deli meat)

Fruit salad kebabs (kiwi, pineapple and strawberry)

Hummus and vegetable stick dippers / flat bread dippers

Sweet cocktail gherkins, cheese and crackers

Chicken and salad lettuce cups

Trail mix (check your school's nut policy)

Cold bow-tie pasta with dressing

Melon medley (rockmelon, honeydew melon, watermelon)
---
8. WINTER WARMERS PACKED IN A THERMOS

Don't think lunchboxes only need to contain cold food! Perfect for winter, preheat your thermos with hot water then pop some hot food in and it'll keep nice and warm for lunchtime!
Baked Beans

Soup

Spaghetti

Mini frankfurts

Fried rice

Homemade sausage rolls
---
9. TASTY EXTRAS FOR SOMETHING DIFFERENT

 
Truthfully, we are only limited by our imagination. Here's a few of our favourite finger foods that'll continue variety and keep challenging their taste buds.
Nori squares

Mini quiches

Zucchini slice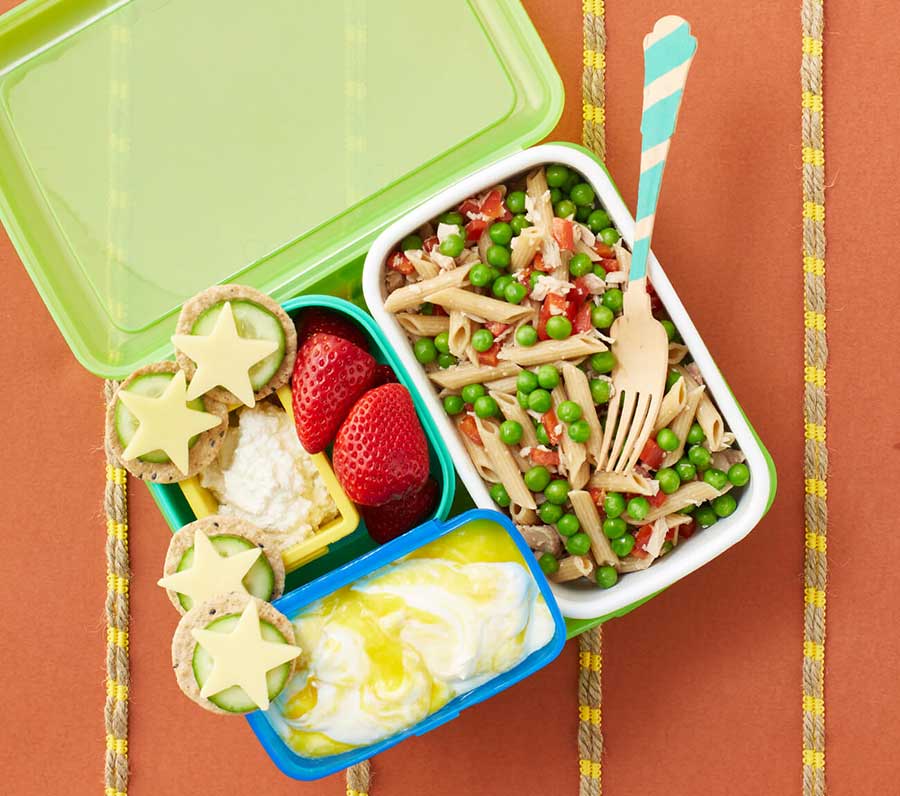 ---
Woolworths love nothing more than to see kids enjoying fresh food in their school lunches. In fact, they've even created a whole stack of scrumptious lunch box recipes! Head to Woolworths, list at the ready, let the kids munch on a free piece of fruit and discover all the lunch box options available from the Fresh Food People!
This is a sponsored article for Woolworths.