Let's face it, kids love Lego. Parents hate the mess. The solution? A cleverly designed Lego table for storage.
But before you break the bank on a play space to keep all those sets in place, check out these DIY Lego table ideas.
Anything but 'lack' luster. Ikea Hackers' Lack Lego table hack combines a bargain from the Swedish super-store with hanging bins and Variera boxes.
Go retro with this 80s (yes, apparently 80s is now retro – but, don't feel old) redo of a low parquet table from Infarrantly Creative.
I Heart Organizing upcycled an old piece of furniture into a chalk table, built for Lego roads and more!
Add a rail around the sides of a homemade storage-play table combo like Lost Button Studio did.
Build a hanging wall table from Ikea's Trofast shelving unit.
A Little of This, A Little of That created a Lego table with built in bins. Genius!
Use your basic folding table like The Joys of Boys did. And, it's portable too.
Use a yard sale end table. Fussy Monkey Business dressed theirs up and added a basket for storage.
Not surprisingly, My Repurposed Life repurposed a dresser into a Lego table. It's got a play area, storage galore and that signature plastic brick look.
Fancy Ashley got functional and built a Lego table with clear storage bins (that also featured smaller bins within them) underneath.
Crafting a Green World's version reuses an old toy chest to make a play space that you can make and take.
Sport sliding bins – underneath the table. Lil' Luna made these plash and stash gems that are ideal for individual use.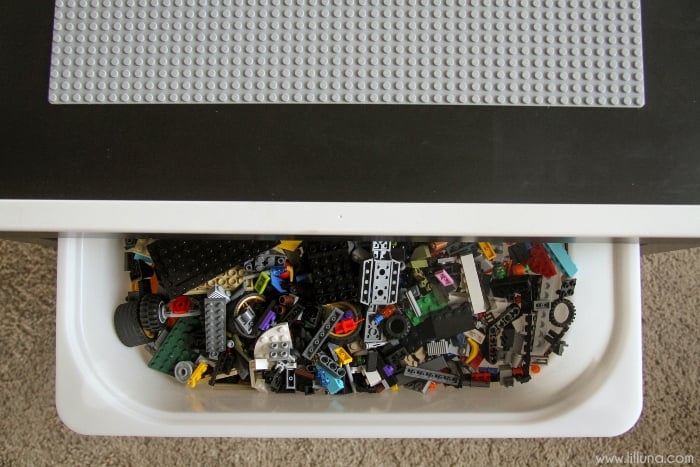 Pull double-duty. The Dude Mom made a Lego storage table that also works as a quiet-time reading nook (simply add a cushion).
Combine cars and Legos in this street-wise table that Meet the Dubiens built.
Our Cozy Den got handy and transformed an old kids' cartoon character table into a Lego land.
Spray on a new colour and turn a thrift shop find into Lego fun, like All My Little Gems did.
Duke Manor Farm's DIY creation may look fairly flat, but it has a little secret – a drop down bin that sports a storage solution.
Top the table with a built-in tray. My Frugal Adventures keeps the clutter in with this bountiful barrier.
Zipperhead Creations made a tray too! Theirs comes off and provides a portable option.
Three Moons put together a majorly movable option.
Try a travel tray! Save Money Live Joyfully made a magnetic one for on the go Lego lovers.
ALSO SEE: 11 COOL & CLEVER LEGO HACKS THAT WILL BLOW YOUR MIND