I don't want to be one to cause alarm, but FOLKS IT'S HAPPENING. Cadbury Caramilk chocolate is set to hit warehouses by the end of this month for its release into our welcoming arms supermarket shelves in July. OH, HAPPY DAY! And here's all the cooking inspo you need for your new stash!
The best news I've heard all week was quickly spilt into the Facebook group where all the Caramilk fans congregate, Caramilk Addicts Club. Yes, there's a group and no we are absolutely not judging anyone.
Now because we know that we're going to be stockpiling a few bars of the golden Caramilk chocolate, we feel it's only appropriate to remind you of all the AMAZING things that can be done with the caramel flavoured delight.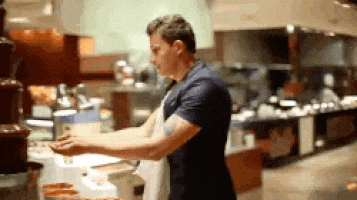 Also as an option.
---
10 brilliantly delicious Caramilk flavoured treats
So here it is, X rather epic #caramilkinspo ideas on how to make your Cadbury Caramilk chocolate go the distance.
1. The Caramilk laden doughnut
Holy smokes. A Caramilk icing and topped with Caramilk and KitKat. There's nothing left to do but indulge – and maybe pop the kettle on. YUM.
2. Caramilk brownies
Celebrate the return of Cadbury Caramilk by making brownies for your neighbours. Break up bits of Caramilk and smush them straight into the mixture before baking and don't forget to drizzle on top. Sweeeeeet. And aren't you the most awesome neighbour?
3. Caramilk cheesecake
Cheesecake is the perfect vessel for Philadelphia Caramilk Cream Cheese Spread (available at Woolies) AND actual Cadbury Caramilk. Double whammy, get in my belly.
4. Caramilk caramel slice
You can 100% make a Caramilk version of a chocolate caramel slice. I'm willing to hedge my bets that caramel on caramel will be EVEN BETTER than the milk chocolate original. Said as only a true Caramilk addict can.
5. Glazed doughnuts
When it's just a *hint* of Caramilk chocolate you're after, a simple doughnut glazed with the flavour hits the spot just perfectly.
6. The Caramilk EVERYTHING cake
The ultimate birthday gift for any Caramilk chocolate enthusiast, Caramilk buttercream, Caramilk macaroons, Caramilk EVERYTHING. Hip hip hooray, yada yada…  NOW CUT THE CAKE ALREADY!
7. Caramilk filled cannoli
Ahhhhhh just like Nonna used to make. But not. Caramilk cannoli for the dessert win!
8. Salted caramel and Caramilk cupcakes
Cupcakes are easily achievable for ANY home baker, so why not take them to the next step by amping them up with Caramilk chocolate and salted caramel? YES PLEASE.
9. Caramilk must-have martini
It's 5 PM somewhere, RIGHT? I missed trying this one last time the golden goddess hit the shelves, so rest assured I'll be trying a Caramilk martini this time around!
10. Caramilk cheesecake version 2.0

Because you can never have enough Caramilk or enough cheesecake. Watch below how this baked Caramilk and Anzac biscuit FUSION come together. Drooooool.
And if after all that, you miss out…
Of course, if you miss out, you have a dodgy trolley or just aren't quick enough to sprint your way through the car park to the confectionery aisle, you can always MAKE YOUR OWN Caramilk. In which case we have the perfect Caramilk recipe for you here.
---
What say you? Do you love Cadbury Caramilk as much as the rest of Australia or could leave it (in which case, please do because I'm not very quick around the aisles)?
Read more: