What perks did you get on the last flight you took? Maybe a teeny tiny bottle of wine with a twist-off cap?
After seeing what travel blogger Sam Huang got during a string of first-class flights on Emirates, you're sure to be jealous! This clever travel blogger discovered an Emirates loophole which saw him secure a $60,000 around the world trip in first class for just $300!
You see, Huang is a travel blogger and Emirates Frequent Flyer. Even though the price of the ticket is comparable with what you'd probably pay for a short trip to a nearby city, Huang was able to fly from Singapore to New York. That's 21,136 miles – with stops in 11 cities, spanning 7 countries and 5 continents. Okay, so you're already starting to feel the jealousy creeping in. Right? Just wait. It gets even better.
Not only did Huang book an amazingly awesome trip for a ridiculously low price, but his travel accommodations easily beat out just about anything that you could ever imagine. Seriously, stellar doesn't even begin to describe how Huang traveled. As the blogger says himself, "I finally got my golden ticket, and was about to begin the greatest flying experience of my life." And, that it certainly was!
So where did he go? Almost everywhere! Here's his first leg:
And his second leg – all still in first class of course!
The Emirates First Class Suite (yes, suite) is more like a mini room – or, rather a mini room that's decked out in gold accents and crazy-cool technology.
But first, let's take a step back.
Before Huang even boarded the Airbus A380, the VIP treatment began. Aside from the almost-private check-in counter (no crowds and waiting in long lines for first-class passengers), Huang was treated to top-notch service (and champagne) in the airline's lounge.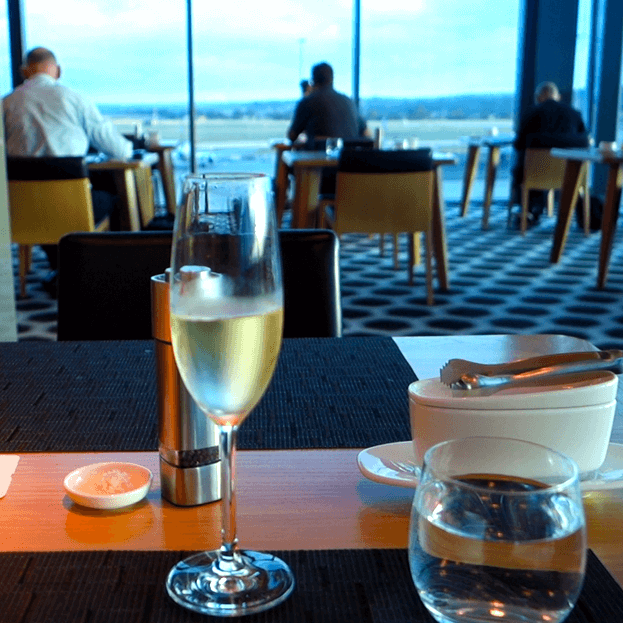 The super-star treatment doesn't stop there. Did Huang have to board with the rest of the passengers? Oh, no. First-class ticket-holders get to wait in private area, and then board via a separate walkway. Now, if you think you've traveled in style—think again. From the automated bar to the Dom Perignon 2004 (yes, that's $200 a bottle Dom), everything was over-the-top. This includes the Spanish omelette breakfast that Huang choose for his in-flight meal. Forget about tray tables and flimsy plastic plates. Emirates First Class suites have their own mini dining areas that a flight attendant sets up (covered in actual linen, with real china, mind you).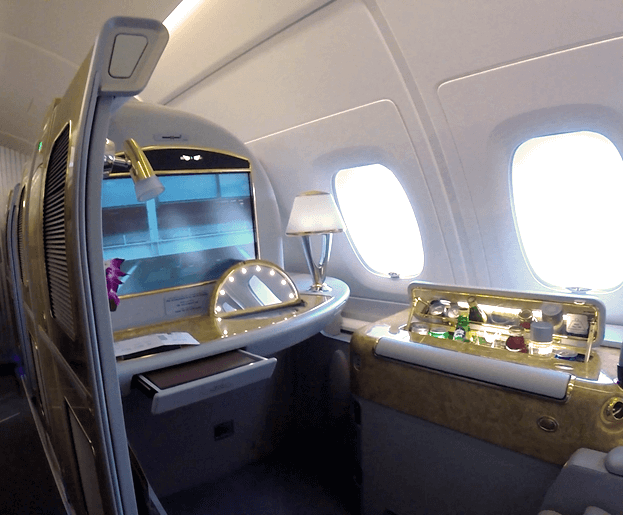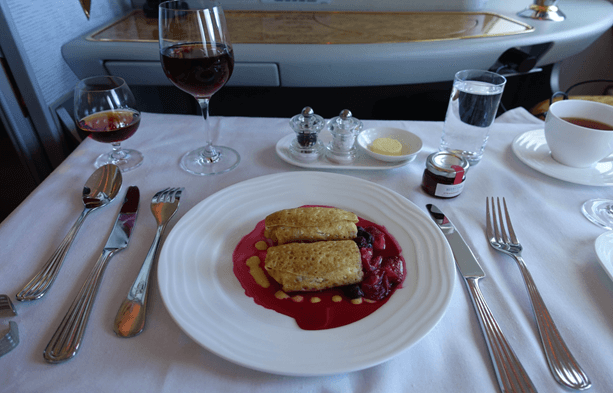 After his decadent meal, Huang was treated to an even more decadent drink – Hennessy Paradis cognac (which retails for roughly $700 a bottle!).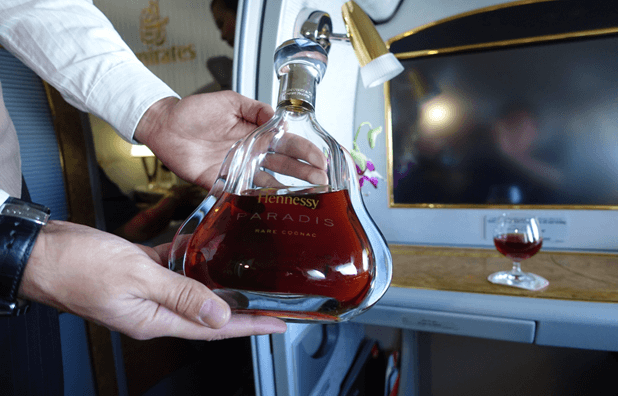 But, that's not all. Not nearly all. Next, Huang took full-advantage of THE trip-maker part of the flight – the onboard shower. Yep, an actual real shower in the middle of the flight. This is a full-sized shower, and it comes complete with a heated floor and an LCD screen (that shows you where your flight is). Huang writes of his onboard shower, "It was like unlocking a new treasure that you never knew existed."
Huang's first-class trip didn't end there. He continued on with his Emirates adventure, and all of the goodies that came with it.
From glass after glass of champagne to steak at 40,000 feet, this trip leaves us all thinking one thing – it must be nice to see how the other half live! Check out Huang's video for a true taste of the amazing experience.
So how did Huang do it? That, he's keeping close to his chest, although he did say it was very complicated and after the recent exposure, we're pretty sure that loophole would be closed by now!
Bravo Huang, we're insanely jealous!!