Do you love a thrift store find? Here's one mama who is transforming secondhand wardrobe finds into fashionable one-off pieces and it's positively epic. It's Project Runway, the thrift store season. And it's fashion upcycling at it's BEST.
We've all done it, heading to the op-shop thinking we're all down-with-the-kids and can totally pull off a 1980s pair of parachute pants. Although, in reality, we return home with hideous flammable pants looking more like MC Hammer than, well, MC Hammer himself. HOWEVER, this mum shows us just how easy it is to turn kitch into cool – thrift store style!
Meet Caitlin, a 33-year-old mum of three who is making the very most of her coronavirus lockdown. No, not binge-watching Netflix. She's dedicated to a new hobby – redesigning thrift store clothing. Caitlin (who obvs knows how to sew), set out on an epic journey of vintage upcycling with all her newfound spare time. And we are so VERY HERE FOR IT.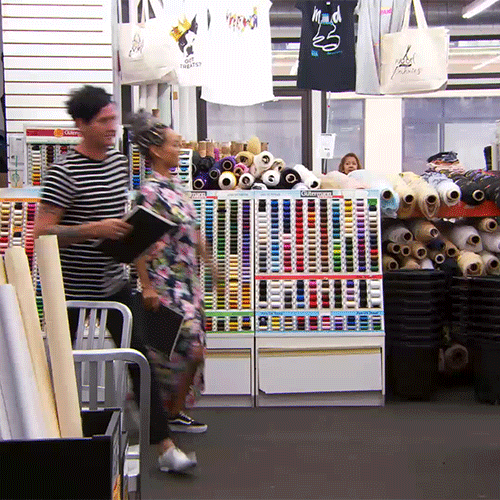 ---
10 upcycled clothing masterpieces!
Upcycle 1 - Blue to the bone
How much lace is too much lace? Caitlin says:
"This was such an easy and fun makeover! Quick and satisfying. I got a big 60s baddie vibe from the blue floral lace. I knew I could make a cool date night dress! I took off the neckpiece and saved that beauty for later. Then I chopped off the bottom and used that material for spaghetti straps and a shawl."

Upcycle 2 - Peacock meets Disney Frozen princess
There's divided opinion from the upcycled clothing fans on the peacock it seems, shake your tail feather! Caitlin says:
"Let's talk about the real challenges of this dress- 5 layers of tulle and underskirt! This was my second attempt at anything tulle. The first one failed miserably. Also, this dress had a side zipper that I had to take out to size down the bodice. I put it in the back and it does not look… polished. Anyway- this was just a fun experiment for me! I love testing my abilities, even when it doesn't turn out 100%. But, sad news- this was the last dress I got at Goodwill before the shutdown. I have other stuff to work on, but it was bittersweet to see this one finished!"
Upcycle 3 - Retro vibe tartan
That dress no one wanted? Caitlin captions the Instagram image with:
"This dress was new with tags (I wonder why? LOL) from Goodwill, and I was able to turn it into this super cute sundress! The pattern is McCall's/ Gertie B6453. I actually downloaded it from the McCall's website and followed her blog for step by step instructions. I reused the trim on the neckline, and added the bow!"

Upcycle 4 - Sweet sundress
Take one 90s special and turn it into something perfect for now!
"I used the Hepburn pattern from Patterns 4 Pirates to restyle this Lularoe Ana dress! I cut the back of the bodice from the back of the original bodice and then cut the front from the upper part of the skirt. I added pockets and I'm IN LOVE." And so are we Caitlin!

Upcycle 5 - The Camilla Franks effect
If ever you wanted a high-end Camilla somethin' somethin', perhaps this is the budget alternative? Caitlin writes:
"I got this skirt for $3- but there was no top to be found. After lots and lots of thinking, planning and pattern drafting I was able to make it a full dress! WITHOUT LOSING ALL THE LENGTH! (Being short came in handy for this one) I was inspired by a dress Taylor Swift wore to the Golden Globes. It was completely backless, and I couldn't find a similar pattern. I almost gave up and did a different bodice all together, but I'm so glad I didn't!"

Upcycle 6 - Pretty in pink
What was once highly flammable and swathed its wearer in the fabric is now short, swishy and sweet.
"Happy Valentine's Day! Here's my 80s bridesmaid dress turned perfect pink 50s party dress. I hope some of you were able to watch my stories and see this come to life! This dress is made from acetate, and it's basically like sewing with a plastic table cloth from the dollar store." Well done Caitlin!

HOLY SMOKES! Caitlin captions the image:
"From mom at the park, to date night. This is a Lularoe Ana that I got at Goodwill for $4. I used a pattern from 'Patterns for Pirates' called the Gala Gown to refashion the bodice. And I sewed an entire strapless bra into the dress. Seriously, why aren't more dresses made like that!?"
Upcycle 8 - Scooby-Doo Where Are You?
Am I the only one who thinks of Scooby-Doo when I see this one? How CUTE! Caitlin says:
"This dress was cute before, but I thought it would be the perfect dress to attempt a two-piece with! I desperately wanted shorts in the skirt, because I hate worrying about my butt hanging out!"

Upcycle 9 - Marching band turned magic
What was once fit for the marching band has been upcycled in style.
"I LOVE THIS ONE SO MUCH! Maybe it's just because there were a lot of blood, sweat, and tears involved. This 80s beast had so many layers, fabric that frayed and shoulder pads… PLUS bonus stiff ruffled fabric in the shoulders. (Because God forbid the shoulder pads didn't give enough volume!)" Caitlin writes.

Upcycle 10 - WATCH this vintage sheet makeover
https://www.instagram.com/p/CAK3YCsgF4R/
What say you? Are you into upcycled clothing and outfits? Or are you more vintage MC Hammer like me?
---
Read more: